30 Sep 2020
Making your website your best salesperson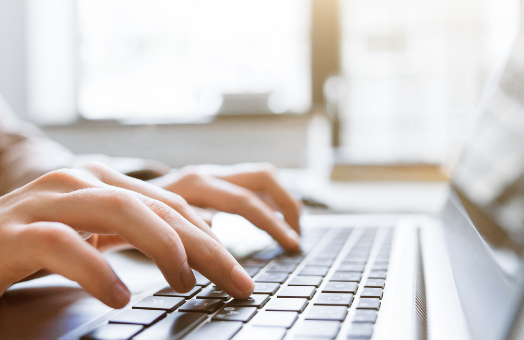 If you have a website, you should consider it to be a key part of your sales team. Find out how to help you lay the foundations on your website to facilitate sales and boost your brand image. As part of Glee Gathering, Lynsey Swales from Social B took us through some of the fundamentals of building an ecommerce website that works for you.
Why you need a great website
Websites are a very important part of any digital marketing strategy and will continue to be for the foreseeable future. The internet is still where we go for research and to purchase products and whilst customers might look to social media for some things, Google is still very often their first port of call. Understanding the reasons customers will seek out your website is the first step to success. These are:
To check or confirm your credibility

To find out more about you and your contact details

To browse your product offering and decide if you are the right company for them
What does "good" look like?
Design
Design is very subjective, so there's not a right or wrong answer, but ultimately, your web design should reflect who you are as a brand. Make sure you are using the correct logos, fonts and brand colours to ensure continuity across your website and your other channels.
It's also important to remember that design trends come and go. Modern design should be clean and uncluttered, with plenty of white space around each image or element on any given page. You should also use a design template or theme that caters to your goals
Navigation
The navigation of your website should enable people to get from A to B quickly and easily. You want a customer to get to your website and know exactly where to go or what to do next. The navigation bar or "main nav" sits along the top of your website and is usually the first place people will look when trying to find something. This should be simple and uncluttered, with just the key segments of your website (such as "Shop", "About", "Blog"). If you have lots of pages, you can incorporate dropdown menus from each main segment on your nav bar which break down the categories or subpages further.
When building your website and navigation, put yourself in your customers' shoes and ask others to test your website for you. You could ask a friend to navigate to a specific product on your website, for example, and ask them how easy it was to find and if they have any feedback.
Credibility
Many customers will seek out your website to determine if you are a credible business before buying from you. For these customers you need to make sure that your website is a good source of information and is a safe and reliable place to purchase from.
Security is a big concern for online shoppers. Make sure you have the correct SSL certificate (lots of ecommerce platforms have this built in) to both reassure shoppers and avoid any damage to your website's Google search ranking.
To build credibility, you can also consider including customer reviews and ratings or adding additional content around your industry such as a blog, case studies or accreditations. 
Calls to Action
Calls to action or CTAs are another key part of a website when it comes to telling people what you want them to do. There is no hard and fast rule for what CTA text should be, apart from that they use actionable and imperative words. Popular CTAs include things like "Shop Now" or "Sign Up". Experiment with your CTAs and find out what works best for you.
Social Media Buttons
If you are on social media, make sure you're telling people that you are and that it's really obvious; if you are active on social media, you want people to see you there. Websites are seen as fairly static whereas social media can be a good way to be more dynamic and keep customers up to date with the latest info as well as facilitate closer relationships with them. Make sure your social media buttons are easy to find on your website and that your links are kept up to date.  
Contact Details
It's so important to include at least one form of contact details on your website, whether that's a phone number, email address or contact form. Many people will navigate to a website solely to find out contact details or get in touch with a brand or retailer so make it as easy as possible for them to do so.
Mobile Friendly
More internet searches are done on a mobile device rather than on a laptop or desktop so making sure your website is set up for mobile users is crucial. A non-mobile friendly site is incredibly frustrating for consumers and may cost you a sale.
What content is required?
Content is important to establish credibility, to establish a dialogue and to make you search-engine friendly. It is key for helping them find you in the first place and then for enticing them to buy.
For credibility's sake, content needs to be updated on a regular basis, whether that's offer promotion, product imagery or blog content. This will signal to your user that you are relevant and still in business.
Make sure you upload all images with relevant "alt text" which will allow Google to identify your imagery and improve your site's visibility. If you choose to have a blog section, ensure you have planned content using a content calendar and make sure you are communicating key dates and events.
As a rule, each page on your website should be content and keyword rich. You should include:
Regularly updated blogs or videos
Genuinely useful text on each page
High quality images on each page
A clear purpose for each page
Free tools
There are a number of free tools available for businesses to track and analyse website health and performance. These include:
Google Keyword Planner
Google Analytics
Moz
AnswerThePublic
If you enjoyed this article, you might also like: