31 Aug 2018
Newspan: garden centres that set new standards
Newspan is a dynamic and forward-thinking design and build company that specialises in public access structures.
Using their extensive commercial building experience alongside their unique 'design, deliver and care' approach, they work closely with you throughout to understand your objectives, manage potential challenges and deliver exceptional value.
The results are imaginative, cost effective and environmentally empathetic building solutions that provide excellent functionality and longevity.
New Builds
In Autumn 2017 Newspan returned to Henry Street to undertake a 1,600m2 redevelopment that would allow the relocation of the restaurant to a bigger building with a terrace, and install a new canopy to improve customer flow between buildings. A vital aspect of this new project was to ensure any additional structures integrated perfectly with the existing buildings on site. From the outset Newspan's approach was to maximise existing materials whilst designing efficient and practical methods of extension.
Tim Goold, one of Henry Street's owners, explains: "The planners were very much looking for designs that would be sympathetic to what was already here, so the drawings put forward by architects Pleydell Smithyman appeared relatively straightforward. The art was all in Newspan's execution of how well the new canopy linked with other buildings on site.  What was previously an open sales area on sloping levels has been turned into a covered, level retail space that customers now move around in without getting wet in bad weather. Our café now seats 350 people; 100 covers more than before."
"As we expected from Newspan, the project delivery ran smoothly and to plan.  The site team worked well with the main contractor and handover was on time. The team in the office is well informed and involved with activity on site, and always helpful if you need any support.  Long term, the customer care is fantastic – they know our buildings and on the rare occasions we do need help, they're straightforward to deal with and get things sorted."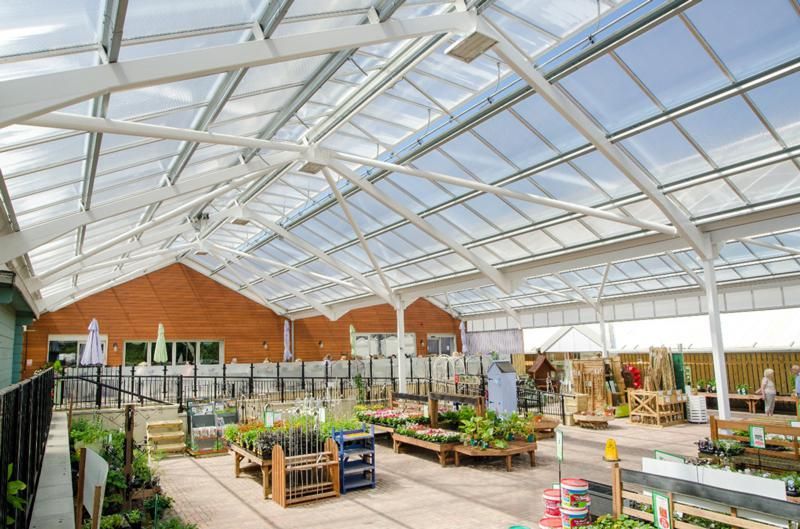 Refurbishments
Almondsbury Garden Centre had been involved in a lengthy planning permission stalemate, which left them feeling like they had fallen behind local competition. Newspan recommended the extension of five spans of existing glasshouse buildings, at both ends. A plan that would sidestep obstacles to previous new build proposals.
Newspan removed the old glass and used the existing frame to mount their insulated roof to the existing 5 spans. They then extended the frame at both ends to allow more retail space and applied the same insulated cladding. The specification also includes double glazing and automatic doors. Now Almondsbury has the use of 5 enclosed and insulated garden centre buildings, providing a comfortable shopping environment all round.
The restaurant is now twice the size of the previous cafe, seating 250 people, and the extension is seamlessly integrated. Almondsbury Managing Director, Phil Hodges said: "The improvements are so significant that I don't think a first-time customer here would know our buildings aren't new. They're bigger, look great and perform better".