28 Aug 2019
PAWExpo to launch in 2020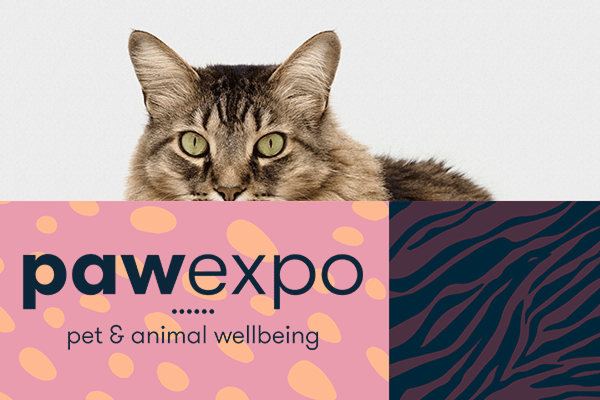 PAWExpo – a new high-end pet focused exhibition – will launch in September 2020, supported by the team behind the annual Glee trade event. A special 'first look' at what is to come will be unveiled at the official PAWExpo reveal party on Wednesday 11th September at the Pets Café area, in Hall 19.
PAWExpo – Pet & Animal Wellbeing Expo – will offer a fresh look at pet product and accessories. Pet care, wellbeing, premier and luxury products will take centre stage, showcasing brands that cover everything from food and health, to accessories, technology and retail solutions.
Matthew Mein, Glee and PAWExpo's Event Director, said: "The way our pets are integrated into our lives has changed exponentially in recent years. Animals no longer regarded as pets, but as one of the family, and it is this that is driving category growth, and why we have seen unprecedented level of premium and artisan products launched over the past five years, projecting luxury pet goods into the mainstream market. Pet owners are willing to offer animals their own products and unique items, which often carry a higher price tag. This is a great opportunity for retailers who want to optimise this long-term (and recession proof) potential, and to offer a new generation of pet products. At PAWExpo everything retailers need to create a strong and future-facing retail experience – from core products to exciting gifting ranges – is presented under one roof, at a time of year when ranges for the following season are most commonly selected. PawExpo is an exciting prospect, and one that we are looking forward to bringing to market."
At a glance - a look at the UK pet market
According to AMA Research, the total UK pet market was valued at £6.5billion in 2017, when the pet market accounted for 1.8% of the UK retail market.
Analysts have predicted "modest but continued steady growth" in the pet market – with a value of £7billion forecast for 2020-21.
Mintel's latest research (October 2018) found that 59% of British consumers own a pet, with full-time workers the most likely to own one (66%). Dog ownership peaks among men, with 35% owning a hound compared to 31% of women, and younger millennials aged 19-28 (42%). Cat ownership peaks among Brits aged 25-44. A third (33%) of Brits own a dog while three in ten (29%) own a cat.
Mintels' report also highlighted that the highest proportion of Brits who said they'd be prepared to put their pets' needs before their own were millennials – those aged 19-38 – with 54 per cent saying they'd go without so they could afford to pamper their pets. In fact, millennials take their pets' wellbeing so seriously, the survey claimed, that 30 per cent of young pet care shoppers said it was important that their pet keeps up with the latest trends such as clothing and grooming styles.
Another factor that's shaping the fortunes of the pet trade is the rise of animal social media influencers, which are most likely to appeal to the millennial demographic.
Further details about PawExpo will be announced shortly.
Find out more
To keep up-to-date on the latest Glee news visit www.gleebirmingham.com    .  To enquire about exhibiting at Glee 2019 call +44 (0)203 3545 9752.