09 Feb 2020
Primeur reveals five trends that will shape the way the nation gardens into 2021 and beyond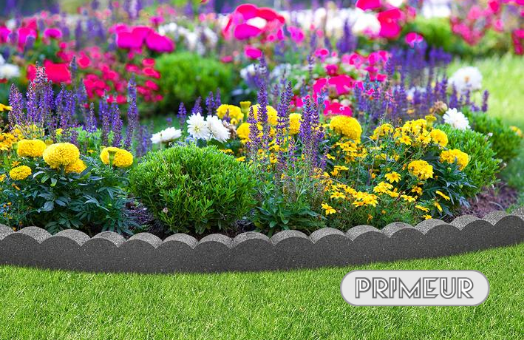 From climate change to grow-your-own, the UK's leading supplier of eco-friendly garden products, crafted from recycled rubber, throws the spotlight on factors that will influence the way we garden.
Millennials drive surge in demand for outdoor living
The Covid-19 pandemic has redefined how the nation uses its outdoor spaces. A survey by insurer LV found that people aged 25-39 spent almost twice as much on their gardens during lockdown, with millennials forking out an average of £213 on outdoor spaces, compared to £125 for other age groups. Households said the way they use gardens has changed, with 74% of people adding outdoor living features – while 30% have been using their gardens to work from home.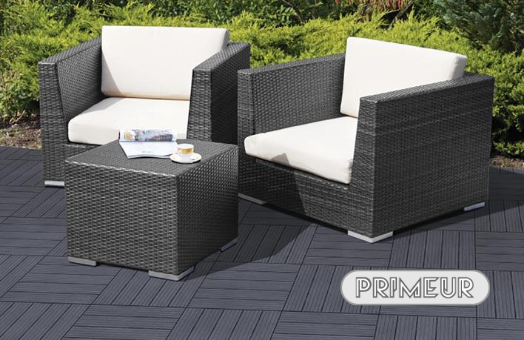 Gardens' increasing role as safe havens during the pandemic has driven interest in Primeur's Recycled Rubber Deck Tiles which instantly transform drab patios or ugly concrete hard standings into ultra-stylish outdoor relaxation and entertaining zones, utilising a clever Clip & Lock system for fast installation. While these eco-friendly tiles are helping homeowners to ramp-up the kerb appeal of properties, they hold strong appeal for renters seeking to temporarily spruce-up dreary outdoor spaces. According to the Office for National Statistics, the number of people renting privately increased from 2.8million to 4.5million between 2007 and 2017, with younger households aged between 25-34 – the same group that's driving demand for outdoor living – more likely to rent their home. Recycled rubber deck tiles hold the key to helping renters take outdoor living spaces with them when tenancies come to an end.
Grow-your-own ignites a kitchen garden revolution
Growing fruit, veg and herbs has witnessed an unprecedented boom this year. Seed houses have reported veg seed sales rises of between 500% and 1,000%, with grow-your-own favourites such as tomatoes, beans, carrots, lettuce and beetroot topping the popularity stakes. However, a recent survey revealed that between 321 and 637 people are stuck on long waiting lists for the UK's most popular allotments, leading frustrated gardeners to seek alternative ways to cultivate kitchen produce. Already a top choice for flower borders (pictured), Primeur's Recycled Rubber Border Collection is the perfect solution for creating raised veg-growing beds at home – a lightweight, flexible alternative to easily broken concrete edging. And unlike timber edging, it won't rot either!
Instagram generation drives houseplant boom
Tech-savvy millennials, often deprived of outdoor space, are fuelling the resurgence of houseplants by showing off their indoor urban jungles on social media. The #houseplants hashtag on Instagram brings up more than 3.9million posts, while the Garden Centre Association (GCA) declared 2019 the 'Year of the Houseplant', revealing that sales grew by a staggering 17.6% in the space of a year. The GCA says houseplants "promote feelings of relaxation, calm and wellbeing" while "removing harmful chemicals from the air, such as those in some paints, varnishes, carpets and furniture".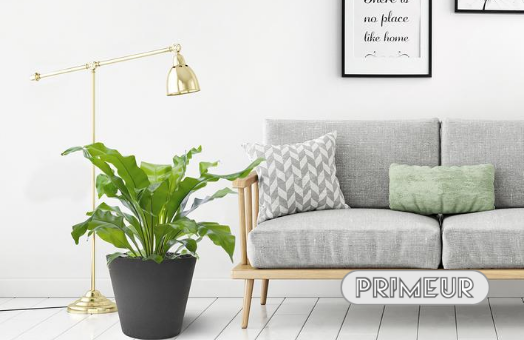 With their built-in reservoirs and removable drainage plugs that ensure no water can escape onto carpets or floors, Primeur's unbreakable Tierra Verde planters are the go-to choice for growing houseplants that can also bring the indoors outside by adorning patios during the warm months.
Heatwaves set to take their toll on lawns
A report in The Guardian claimed that the likelihood of 40C heatwaves in the UK is "rapidly accelerating" due to the climate crisis, quoting scientists who believe that global warming has made heatwaves "30 times more likely" in the UK. That's bad news for lawns, which quickly become parched during drought; a problem that's been compounded this year by heavy wear and tear during staycations as a result of the Covid-19 pandemic. Laying paths with Primeur's weather-resistant Recycled Rubber Stepping Stones helps to take the pressure off tired turf, creating mould and mildew-resistant pathways around gardens that improve access all year-round. Plus, Primeur's self-watering Tierra Verde planters are just the ticket for helping thirsty plants to thrive in a warming climate where heatwaves could otherwise take their toll on container plants.
Extend interior fashion outdoors by tapping into colour trends
According to Elle Décor, "rich moody hues and elegant neutrals" are in-vogue for 2020 – with blue-grey, warm creams, deep avocado green, dusty teal and earth tones raising the bar for bold interior décor. With gardens increasingly regarded as an extension of the home, Primeur's recycled rubber range has been designed to be the perfect accompaniment to subtle hues or dramatic, vibrant shades – whether it's ultra-cool contemporary rubber decking tiles (pictured) in earth or steel grey tones, Tierra Verde planters in pewter or slate, or recycled rubber stepping stones in Terracotta, grey or earth, every product is styled to enhance modern living.
Recycled rubber – did you know?
Primeur's innovative garden products are made from recycled rubber tyres, which would have otherwise taken 80 years to decompose if dumped into landfill.

Recycled rubber garden products are virtually indestructible: they won't crack, fade, stain or rot – making them ideal for gardens where kids and pets play.

A tyre contains more than 200 ingredients, but 6kg of rubber crumb can be recycled from a single tyre and transformed into durable and stylish garden products.

All of Primeur's recycled rubber products are non-toxic as well as being lawnmower and nylon cord trimmer safe – perfect for use in gardens, play areas and on allotments.
To discover Primeur's eco-friendly recycled rubber garden products, call 01274 518800, visit the website at www.primeur.co.uk or email sales@primeur.ltd.uk. 
Primeur will also be taking part in Glee Gathering on 15th and 16th September 2020. View their profile here and make sure you register for exclusive showcases, content and more!