24 Jun 2022
Unmissable content at The Stage – Glee's hub of learning & education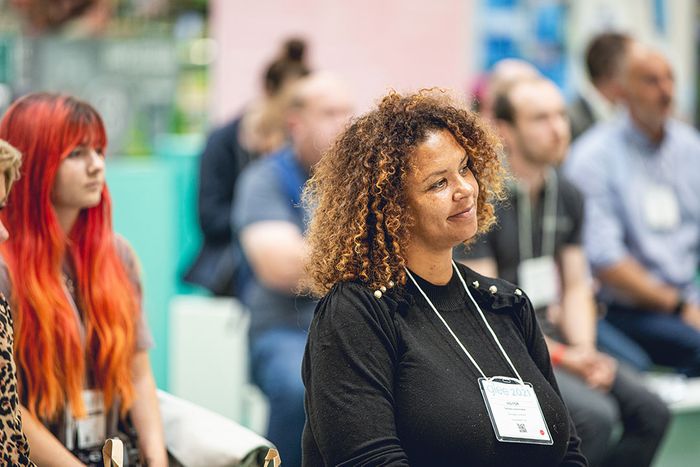 Tackling the big issues that are shaping garden retail, Glee's dedicated hub for education and learning, 'The Stage', will feature an unmissable timetable this year. Find out more below.
Focusing on what matters
Many visitors to Glee will, no doubt, have previously attended one of the exhibition's educational seminars. These bitesize sessions provide thought-provoking insight and tangible takeaways that enable retailers to optimise their retail environment. But, did you know that these sessions are weeks in the making? Before even getting onsite, Glee's dedicated content team undertake an eight-to-10-week research period, during which time they work with hundreds of leading and emerging independent and garden centre groups to identify those opportunities and challenges that are generating conversation and changing the route for future growth; topics where expert insight and leading knowledge is needed the most.
This year, Glee's seminar programme is set to focus on:
Sustainability and how we can create a plan for a more sustainable future
Opportunity for growth and how to maintain the momentum generated over the last two-plus years
Maximising online retail and how to gain the confidence, resources and time to build an e-commerce site
How consumer appetite is changing and what retailers can do to anticipate and react to these changes, including addressing the rising cost of living
The challenges of recruitment within garden retail and how retailers can counter the current instability
The great peat-free debate and plastic tax legislation changes, with advice on how to handle the transition.
Key sessions will also focus on how to build a brand, plus the latest trends shaping home and outdoor living in 2023 and beyond. Meanwhile, gardener, garden designer and TV presenter, Katie Rushworth, is set to make her debut at Glee with a special 'in conversation with' session (Tuesday 12:15 – 13:00) during which she will share insight into her career and current inspiration, including her work supporting an organic range of products.
Joining the line-up will also be:
'Change agent' Alan O'Neill who played a pivotal role in the creation of the customer-focused culture that has helped make Selfridges a high-street benchmark (Tuesday 13:30 – 14:15 'Sustaining & Managing Growth')
Bryony Fletcher and Clive Rose of Fletcher & Rose, brand development and content marketing experts (Wednesday 14:45 – 15:15 'How to build a strong retail brand')
The HTA and the Young People in Horticulture Association (YPHA), together sharing insight into their organisations and the work they are doing to help the garden retail sector expand.
As always, The Stage will also be home to the Glee New Product Pitches and award ceremony (Tuesday, 14:30 – 16:30 and Wednesday 17:00 – 18:00, respectively), and the Buyers Power List Awards (Tuesday 17:00 – 17:20).
Introducing Glee TV – new for 2022!
To further bolster Glee's year-round content, this year's edition will see the introduction of the all-new Glee TV studio. Located on the show floor, this studio will enable Glee to interview exhibitors and visitors alike to discuss the big issues that are changing the future of our industry. From discussing what trends have stuck, to how retailers are responding to the evolving demands of consumers, Glee TV will create some thought-provoking and fun insight into the inner workings of everyone, whether an emerging brand or an industry stalwart who has witnessed the highs and lows of garden retailing throughout their illustrious careers.
Entry to Glee 2022 is free of charge to all pre-registered visitors.